Flintstones Taxi Service Info
Herzlich Willkommen bei den Flintstones Taxi Service
Sicher,gut und günstig!
mit den Flintstones Airport Transfer
Keine Kreditkarten---Keine Anzahlung----absolut sicher !
zb. vom Suvarnabhumi Airport nach Pattaya , Sattahip oder gleich weiter nach Koh Chang bis zu ihren Hotel auf der Insel
Making a reservation with Flinstones taxi service:
It's so simple just fill up the form below. Another easy way just reservation by call us at The flinstones Taxi service
Tel
Mobile. +66 (0) 928862983. We prefer 1 or 2 day of advance notice. However we'll
always try to acomodate your last minutes request.
Payment:
No advance payment in requied. upon your reaching your destination kindly pay your chauffeur by cash AT
the amount by your confirmation. If you have any problem please contact our direct line.
Please make sure with all infomation requied :
* Your travelling information flight number, date and time.
* You contact number and your e-mail address.
* Kindly advise us of any change in your travelling details as soon aspossible without update information even
if your flight delayed our driver will continue to wait for you at the gate number 3 under the meeting point area
if your would like to change the waiting area please tell us. Our driver will come with a signboard A4 green color
with our logo Flintstones taxi service.
FLINTSTONES INFO (Abholung Airport Transfer)
Der Fahrer empfängt den Kunden mit den Flintstonesausdruck genau unter dem Meeting point Würfel!
(Jeder Fahrer hat seine eigene Nummer auf den Ausdruck und es ist somit gewährleistet und
nachvollziehbar wer sie abgeholt hat.
Muster
Im Bereich vom Tor 3 befindet sich der Meeting Point
Bitte genau unter den Würfel ist der Treffpunkt!
Nach der Zollkontrolle einfach rechts halten
Wirklich gut angeschrieben !
Links Door 3
rechts Anzeigetafel
Dazwischen
Die Tür wo es raus geht ,ist innen und außen gut sichtbar mit 3 angeschrieben!
Ist keine 10 Meter vom Treffpunkt (Meeting Point) entfernt.

Tür 1 ist am anfang vom Gebäude die 10 am ende.

Genau bei der Tür geht's raus für die erste Zigarette
Bei der fahrt mit den Taxi vom Flughafen Bangkok nach Pattaya oder zurück gibt es genug Möglichkeiten für einen
kurzen Kaffee-stopp ,Toilette oder sonstigen Bedürfnissen.
Teilen sie einfach den Fahrer ihre Wünsche mit.
genau so, ob sie es lieber kälter langsamer schneller oder sonst einen Wunsch haben.
Unsere Taxi Fahrer sind angewiesen: nicht zu kalt im Fahrzeug und sich mit den Thai Gedudel (Music) sich etwas zurückhalten
KOFFER AUFBEWAHRUNG
Für unsere Kunden besteht auch die möglichkeit der Kofferaufbewahrung (left luggage service)
Für Flintstones Taxi Kunden gratis ! (solange Platz ist)
Bitte um kurze Mitteilung.
TAGESAUSFLÜGE
SEHENSWÜRDIGKEITEN
AKTIVITÄTEN
Pattaya Halfe day Tour / One Day Tour (Depart from Pattaya)
Package 1500/ 1800 THB.

Half day Tour Start 8.00 AM - 13:00 PM
One day Tour Start 8.00 Am - 18:00 PM
Visiting Many interesting places around Pattaya :
The place you can choose by yourself depend on the time.
- The Sanctuary of Truth (Prasat Satchatham)
- Wat Phra Yai (Big Buddha Hill)
- Nong Nooch Garden
- Art in Paradise
- Pattaya Floating Market
- Khao Chi Chan
- Pattaya Elephant Village
- The Million-Year Stone Park and Crocodile Farm
- Underwater World Pattaya
- Ripley's Believe it or Not Museum
- Mini Siam
* Transfers from/ to hotels (major hotel in Pattaya city ).
* soft drinks.

Price Excludes:
* All admission fee.
* Personal expenses such as an alcoholic beverage, etc.
* Other services not mentioned on this programme.
Mögliche Ziele für den Tages-Ausflug rund um Pattaya.
Jeder kann sich seine eigene Route zusammenstellen.
Rund um Pattaya gibt es jede Menge an Sehenswürdigkeiten.
Der eine steht auf Tempel und Natur und der nächste Kunde
geht lieber zur Shooting Range und go kart fahren...
MINI SIAM IN PATTAYA
Around the world in 80 days? Make it two hours! See all the world's wonders as well as Thailand's popular attractions
at Mini Siam, where nearly a hundred replicas of famous sites worldwide - from the Temple of the Emerald Buddha to the
Statue of Liberty - are displayed at a scale of 1 to 25. For serious adventurers, this miniature world may offer nothing close
to the real thing; but for entertainment value, Mini Siam is the perfect place to try and play Gulliver's Travel. Founded in
1985 as part of a research project, Mini Siam's 46,400-sqm area is divided into two distinct zones, namely Mini Siam and
Mini Europe (which is actually the rest of the world), separated by a small serpentine 'river' that you can just step across.
The vast manicured grounds, peppered with water features and man-made sculptures modeled after the world's iconic
landmarks, feel like a true global village
387 Moo 6, Sukhumvit Rd, Pattaya City Naklua, Banglamung, Chonburi, 20150, Thailand

Tel . +66 38 727 333
UNDERWATER WORLD PATTAYA
Pattaya's most exciting aquarium, Underwater World brings a slice of the deep ocean on shore in a series of
exhibits that take you from the sandy beaches to shallow rock pool teeming with colorful reefs to the open ocean
where predators and prays swim side by side. Enjoy the live feeding shows and watch real-time action as you
progress down the 100-metre acrylic tunnel, with all the brilliantly colored creatures plying the waters above and
all around you. Discover the riches of the world's deep ocean, and you will be amazed at how much you learn in
one entertaining hour.
Pattaya Underwater World
Opening Hours

: 09:00-18:00

Location

: Along Sukhumvit Highway, 200 metres south of Tesco Lotus in South
Pattaya
Tel: +66 (0)38 756 879
The Snake Show
Opening hours: 8am-6pm.Where: 39/4 M.5 Nongprue, Banglamung. Turn off Sukhumvit near Central Pattaya,
down Soi Non Plub Wan. Continue for a couple of kilometers and you'll see signs for the snake show on the right.
Parking is available at the front.
Cost: 200 baht for everyone. Telephone: 038-731586
The Million Years Stone Park & Pattaya Crocodile Farm
Located on an over-70-acre piece of land just 15 minutes' drive from Pattaya, this Park & Farm is a new striking
tourist attraction created with more than 20 years' efforts, for all nature lovers.
It contains much more than what its name suggests. It is not only a living museum of curious and beautiful things of
all the three kingdoms-animal, vegetable and mineral, but it also offers you several kinds of amusing and exciting
shows.
22/1 Moo 1, Nongplalai, Banglamung,Pattaya City, Chonburi 20150, Thailand.
Tel: +66 (0) 3824 9347 to 9, +66 (0)8 3112 6080, +66 (0)8 9168 3404 Fax:+66 (0) 3824 9349
E-mail: info@thaistonepark.org GPS : 12.957026, 100.941571
Opening hours : Daily, 08:00 - 18:30
PATTAYA ELEPHANT VILLAGE
Delight in a wide range of shows and demonstrations such as elephant training techniques, bathing, traditional
roundup methods and the highlight, the 'Glong Sabad Chai' (victory drum ceremony) with a war elephant. The
Elephant Village was opened in 1973 as a home for former working elephants, and they are in the full time care
of the camp's experienced mahouts. These domesticated elephants are too accustomed to living in the human
environment to be released back into the wild. One other important factor is diminishing natural habitats, due to
human encroachment and deforestation. This type of elephant sanctuary is one of the few available options that
come to the 'retired' elephants' rescue.
Once a day, the elephants entertain visitors in a series of shows and also stand by for the elephant ride around
the village's forested landscape. Depending on the type of ticket you purchase at entry, you can choose to watch
the 90-minute elephant show only (at 14:30 daily) or combine the show with an elephant trekking tour (1 hour) of
the village and surrounding countryside. There's also the third option which combines the elephant trekking tour
with bamboo rafting and a ride on an ox-drawn cart (3.5 hours). At the Elephant Village, they live in a natural
setting, with freedom to roam around freely when they are not performing to an audience .
The trekking tours follow a pre-set schedule, so it's a good idea to call ahead to check the departure time.
Elephant Village
Opening Hours

: 08:00 – 19:00
Location: Phonpraphanimit Road, off Sukhumvit Road at Km. 145 (between North and Central Pattaya)

Tel: +66(0)38 428 648
Shooting Range Pattaya
Address : 1/6 Moo 4, T. Huay-Yai, Banglamung, Chonburi 20150.
Tel & Fax: 0 3890 7808
PATTAYA TIGER ZOO (SRIRACHA)
What do Bengal tigers, dogs and pigs have in common? After all, they're all members of the animal kingdom
but they come from completely different families. At Sriracha Tiger Zoo, though, you will find them all living
together in harmony, thanks to the zoo's rather unique feeding programme. Witness mother pigs feed tiger cubs
alongside their own piglets; have your picture taken with the cubs; watch the crocodile show, or enjoy riding on an
elephant. Also, meet and feed the ostriches, single hump camels, kangaroos and an aviary of exotic birds. This is
one place for families to enjoy quality time together.
Open in 1997, the tiger zoo covers a vast 400,000sqm area just 30 minutes' south of Pattaya by car. The zoo is
divided into four zones: tiger breeding zone, talent show zone, crocodile zone and animal zone. The main
attraction is the tiger cub feeding room, which showcases tiger cubs and piglets living and feeding in the same
cage. For an extra fee, you can feed the cubs and have your picture taken with them.

The zoo offers daily tiger, elephant, crocodile and pig shows. Not enough thrills? Then meet the 'Scorpion
Queen', the lady who set the Guinness World Record in 2008 for 'The Longest Stay with Scorpions', by staying in
a 12sqm room with 5,000 adult scorpions for 33 days. Otherwise, head over to the animal zone and watch rare
wild animals, such as single-humped camels, deer, ostriches and wallabies, up close. The Elephant Museum
features a collection of life-sized elephant figures, from the extinct species like mammoths to the war elephants of
ancient Thailand to today's wild Asia and African elephants.
Pattaya Tiger Zoo
Opening Hours: 08:00 – 18:00
Location: Sriracha District (30-minute drive south of Pattaya)
Tel: +66 (0)38 296 556 to 8
Khao Keow Open Zoo
Khao Kheow Open Zoo, for over 32 years, has been a cherished resource located in Chonburi Province
.The zoo encompasses over 2,000 acres of the Khao Kheow-Khao Chom Puo Wildlife Sanctuary. The zoo
grounds are divided into animal habitats (400 acres), public recreational areas (200 acres) and research area
(1,400 acres) which is used for the breeding of various endangered species. It is the first zoo in Thailand to
become a member of WAZA
Address: 235 Moo 7, Tambon Bang-Pra, Amphur Sriracha, Chonburi 20110
Tel: (66) 0-3831-8444
Fax: (66) 0-3831-8400
Ausflugsmöglichkeiten in der nähe von Pattaya gibt es für jeden etwas! Ob Sport,Natur,Kultur oder etwas zum relaxen..
THE SANCTUARY OF TRUTH PATTAYA
The Sanctuary of Truth is a gigantic wooden construction rising 105 metres into the sky and exquisitely carved
entirely out of teak wood, one of a kind in the world. Conceived by the ambitious business tycoon who
commissioned the construction of Erawan Museum and The Ancient City (Muang Boran) in Bangkok, this one is
a strange fusion of religion, philosophy, art and culture, it's neither a temple, nor palace 'even though it looks a bit
like a hybrid of both. Best described as a monument to Thai craftsmanship, and a place to reflect, its awe-
inspiring wooden sculptures and cravings pays homage to and is a reflection of the "Ancient Vision of Earth',
"Ancient Knowledge'and "Eastern Philosophy'.
Adresse: 206/2 Moo 5, Soi Naklua 12, Naklua, Banglamung, Chon Buri 20150, Thailand
Telefon:+66 38 367 229
NONG NOOCH TROPICAL GARDEN & CULTURAL VILLAGE
Nong Nooch Garden is set in a 2.4sq.km. beautifully landscaped park and can easily make an all-day trip.
The entire area is more like a theme park, with daily cultural shows, restaurants and accommodation as well as
a vast area showcasing individually themed gardens. A leisurely stroll through the botanical park is like taking
a journey around the world, through its many famous gardens, whether 17th-century French garden, Stonehenge,
or European Renaissance garden. Equally fascinating are species-specific gardens, such as cactus and
succulent plants, orchid nurseries, tropical palm gardens, bonsai and topiary garden
Nong Nooch Tropical Garden
Opening Hours: 09:00 – 17:00
Location: Km. 163, Sukhumvit Road (Highway 3)
Tel: +66 (0)38 429 321, +66 (0)38 425 748
*** PATTAYA FLOATING MARKET ***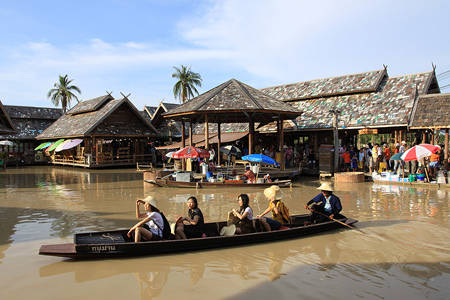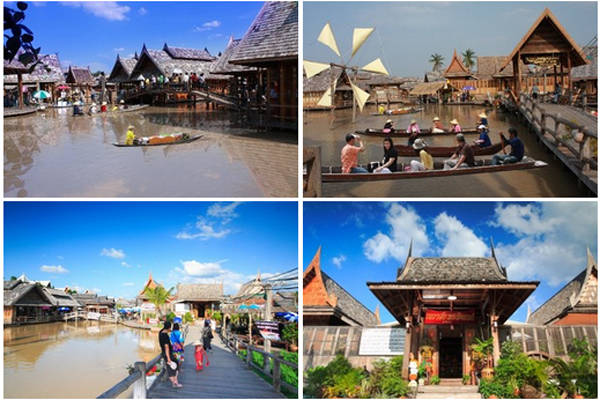 Covering an area of 100,000sqm, the Four Regions Floating Market is separated into four sections – each
representing and selling items from the four major parts of Thailand (north, northeast, central and south). Expec
to find many eateries, fruit stalls, souvenir shops and some art galleries. There is also a cultural show every
afternoon. The 350 million baht market has over 114 shops and water vendors selling authentic Thai food,
desserts and specialties from all over the kingdom. For a floating market experience, hire a man-powered boat
to get around and discover the richness of the surrounding Thai architecture and riverside life. Typically, the boat
is big enough for four people and can be hired for a small fee for around 30 minutes.
Unsere neue Business card